How is the return flow of circular mattresses regulated
At Auping, we work towards a world without waste. Our ambition is that no mattress will end up as landfill or will be burned in the incinerator. That is why we started the Auping Take Back System in 2011. When we deliver your new mattress at your home, we offer to take your old mattress back. Even if this is not an Auping mattress. We will then make sure that your old mattress is processed in a proper way.
But we want to do even better. With Auping Evolve, we take responsibility for developing a mattress which materials are suitable for reuse. Time and again, all materials can be recycled into a new Auping mattress. As a result, we no longer have any waste, no materials need to be incinerated and we close the cycle. Now that is circular. And this is how we see the future.

Where are we now?
The product (2020)

We have developed a mattress made of polyester and steel that is easy to take apart because the different parts are bonded together with Niaga® click-unclick adhesive. After use, all parts can be reprocessed into valuable raw materials from which a new mattress can be made. This recycling process has now been tested and proven on a small scale. A breakthrough in the mattress industry.

What happens to returned circular mattresses?
Optimise recycling process (2020-2025)

Now it's time to optimise the recycling process and make it as efficient as possible. We do this together with our suppliers and material processors. In a number of years we will have set up a recycling process for the large numbers of circular mattresses that will be returned. We also use the knowledge and experience of mature high quality recycling infrastructure, such as polyester PET bottles. We use the small numbers of Auping Evolve mattresses that have already been returned to Deventer to further optimise our recycling process.

What will we do when large numbers come back?
Fully closed loop (from 2026)

By this time the recycling process is set up and ready to process old circular mattresses properly. But how do we make sure that used circular mattresses end up in the right recycling process?

We need you for proper processing. Therefore, when you purchase Auping Evolve, please register so that we can keep you informed about this return process. By the time you're mattress is all used up, we'll make sure it doesn't end up as landfill.
By the way, we're not alone in this. The Dutch government is also concerned about the waste stream that old mattresses currently generate. That is why they are working with us on legislation and regulations whereby old, discarded mattresses may only be returned to recognised mattress recycling companies or waste stations. This will create a transparent return flow.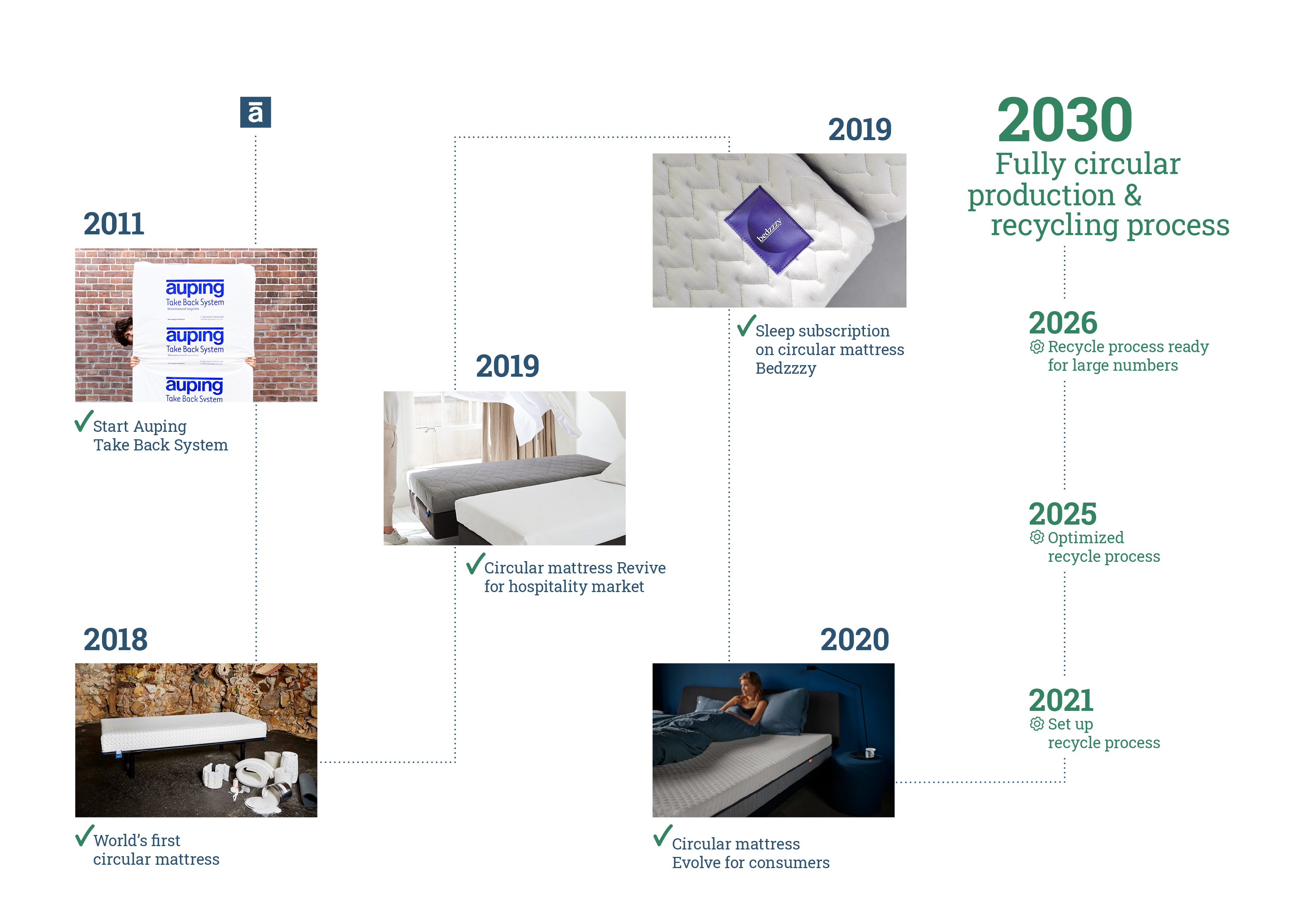 Register your Auping Evolve
If you are fully done using your Auping Evolve, if it is finally worn out, even then this mattress is still of value. Help us to ensure that your old mattress does not end up as landfill. Please register your Auping Evolve or contact our customer service.