Sleep studies have been conducted at Team Sunweb's new Keep Challenging Center in Sittard since March 2019.
Sleep studies have been conducted at Team Sunweb's new Keep Challenging Center in Sittard since March 2019. The cyclists' sleep is being scrutinised under the guidance of Geert Doorlag (Koninklijke Auping researcher) and Teun van Erp (Team Sunweb movement scientist). Because, in addition to things like nutrition and performance, Team Sunweb also understands the importance of a good night's sleep. The aim of these sleep tests is to achieve optimal recovery for each individual cyclist.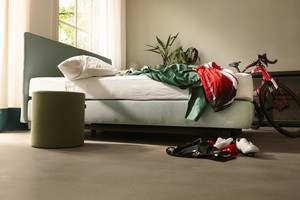 A total of 14 cyclists of the Women's Team and the Development Team have been sleeping on Auping beds with sensors for several months now. They measure, among other things, their breathing and the regularity of their heartbeats. In addition to the measurements, the cyclists keep track of how they feel during the day and whether they have a tough training day or a relatively quiet day that day, for example. This reveals patterns that are related to more or less physical recovery. During the sleep test, the so-called parasympathetic process, which occurs in the body when it is rested, is measured. The body's battery is recharged, as it were, during this process. 
Team Sunweb has long recognised that rest and recovery are important factors in every cyclist's performance. Since 2016, Koninklijke Auping has been sponsoring Team Sunweb's rest and the cyclists sleep on mattresses and pillows that are tailored to the athletes' bodies and preferences. During the Giro d'Italia, Tour de France, and de Vuelta a España, the Auping mattresses and pillows also travel with the cycling team, so that they're also well-rested during the race. Because the best way to get an optimal night's rest is to sleep on your own mattress. The sleep research is now also being used to examine the sleeping patterns, habits, and other factors that contribute to the cyclists' rest and recovery. Rest, recovery, and recharging are at least as important as training when it comes to performing at an elite level: a good night's sleep gives you the energy you need to perform during the day.
Read more about the sleep study.