Royal Auping and Niaga® developed a completely redesigned mattress. Every component of the new modular design can be separated easily and is fully recyclable for re-use in a new mattress. 
Mattresses are one of the main contributors to global landfill waste due to the complex combination of materials glued together. Royal Auping and Niaga® have developed an alternative for mattress manufacturing, including local recycling, that also enables frequent maintenance for quality and hygiene purposes. The first mattresses will be placed at Landal GreenParks resorts before the end of the year. 
An estimated 1,5 million mattresses are disposed every year in the Netherlands alone, 35 million in Europe and 20 million in the US. An increased focus on recycling by mattress manufacturers has grown the demand for reduced materials complexity and new ways to connect layers in a reversible manner. 
It all started at Royal Auping more than a century ago with the quest for good sleep. With Niaga®'s support, today's innovative solution is found in modularity, healthy materials and the closed loop approach of the (re)production. The fully recyclable mattress excels in airflow and has a modular design that consists of six components: the ticking, comfort layer, pocket spring, felt floor, zippers and tape rush which are brought together by yarn and a reversible adhesive. All components can be easily replaced when comfort or hygiene demands, securing a good night's sleep again and again. The unique collaboration of local production and partners, all within 100km / 60 miles of the Auping factory, facilitates local recycling without compromising on quality.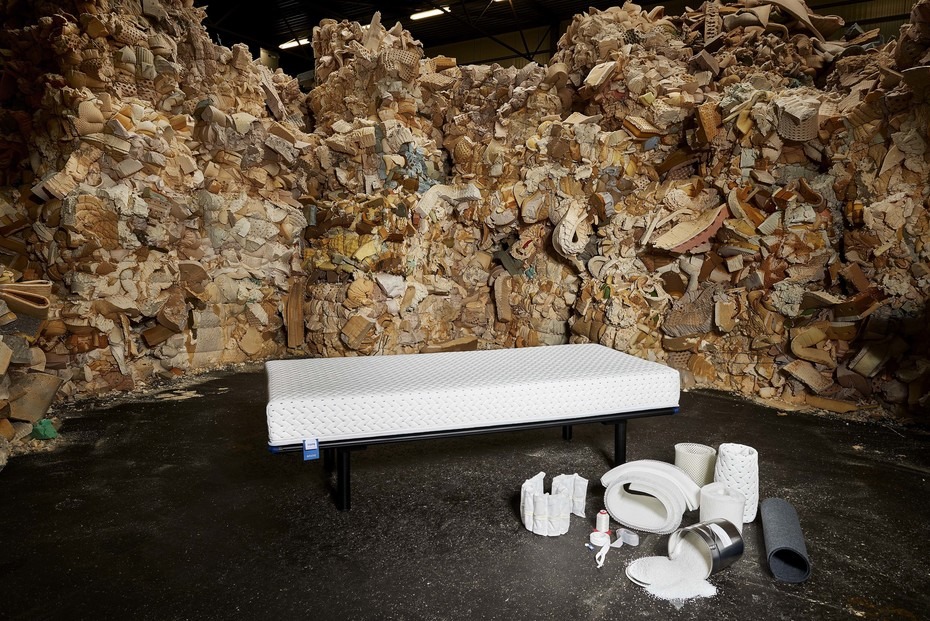 In the collaboration with Niaga®, Royal Auping used its experience in manufacturing of high quality mattresses and now added circularity as a leading factor. Says Jan-Joost Bosman, CEO of Royal Auping: "Comfort and body support have been crucial for as long as Auping has existed. Over the years our focus shifted from the product to the actual service we provide to people every day: a good night sleep. This new focus introduced new design challenges as airflow through the mattress, replacement of end of life parts, and the impact of all elements on our sleep and long-term health." 
According to Kelly Hall, Managing Director of Niaga®. "Conscious of the fact that most mattresses end up landfill or incinerated, we used all of Niaga®'s materials science to meet Auping's demands for quality and comfort, by using only materials that are known for no negative impact on our health, fully recyclable into new mattress components, and connected in a reversible way. We have been impressed by the dedication of the Auping team to find new ways of manufacturing, and we are truly impressed by Auping's knowhow of the nightly hours we all recharge."