Next week, Team Auping will travel to the south of France, where the Tour du ALS will take place for the tenth time on Thursday 9 June 2022. Participation requires decisiveness and a great sporting achievement. Will you help us?
Many hundreds of people, including dozens of Auping colleagues and retailers, climb Mont Ventoux during this anniversary edition by cycling, running or walking. Together with ALS patients, they take on this sporting challenge to collect as many donations as possible. Because with more money, research into the deadly muscle disease ALS (Amyotrophic Lateral Sclerosis) can accelerate.
To date, there is still no medicine to slow down, stop, or cure ALS. No one survives the diagnosis at this point. More intensive scientific research into the cause and treatment is a top priority.
 
Donations
A solution is urgently needed, there is no time to lose. You can contribute by sponsoring a team member or team and you can do so directly via this link to Team Auping. All donations benefit the fight against ALS.
With 56 team members and a number of volunteers, Team Auping is the largest participating team in the Tour du ALS. We are extremely grateful to all donors, large and small, for their contributions. And special thanks to our shirt sponsors and main donors Müller Textil and Moteck for their generous support.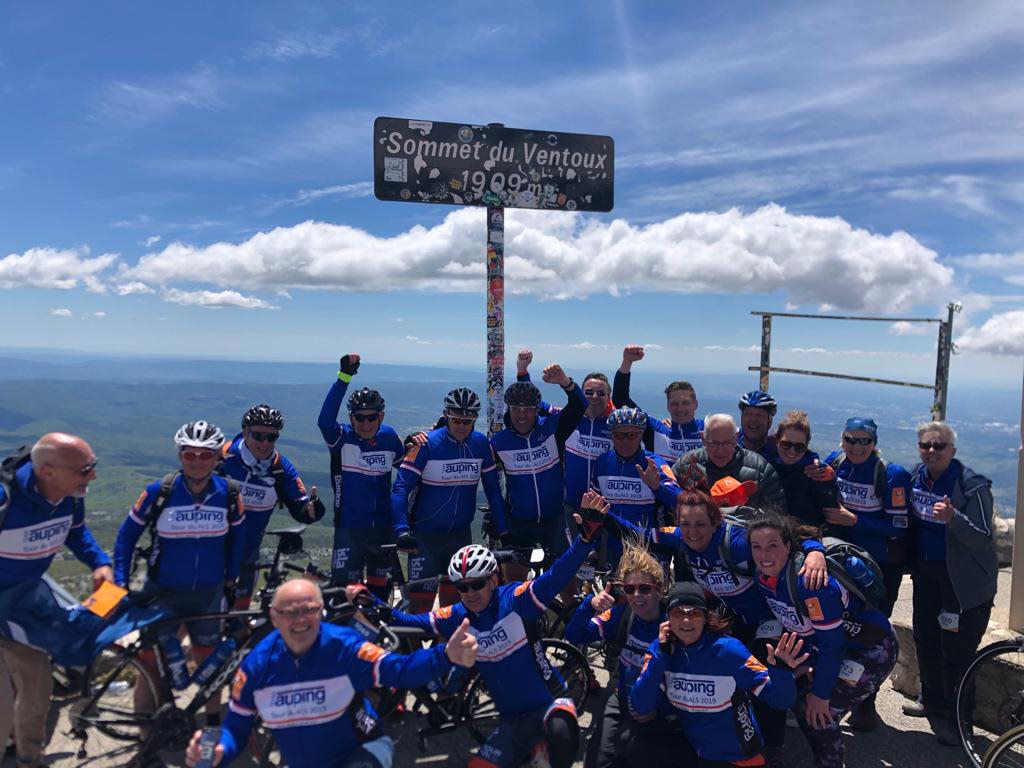 Mont Ventoux
The trip uphill Mont Ventoux is impressive and also tough. The gradient of this striking mountain is between 5 and 12 percent. The steep slopes, the barren moonscape and the often strong wind make the ascent a true challenge. The summit located at almost 2000 meters, is the highest point of ​​the Massif des Cèdres region. The majestic mountain has therefore also been nicknamed the 'Giant of Provence'.

About ALS
ALS (amyotrophic lateral sclerosis) is a progressive disease that leads to muscle weakness and paralysis. It is one of the most serious and debilitating disorders of the nervous system. The disease leads to the death of nerve cells in the spinal cord and brain. Muscles fall out one by one. The exact cause is not yet known and patients have an average life expectancy of 3 to 5 years after the first symptoms.
About 1,500 people live with ALS in the Netherlands. Every year 500 new patients are added and 500 also die. The number of ALS patients in Europe is approximately 50,000, of which approximately 10,000 die each year. Worldwide, there are 175,000 ALS deaths per year.
About Tour du ALS
The Tour du ALS is organized annually by the ALS Netherlands Foundation, which is committed to finding the cause and solutions of this debilitating disease. The ALS Netherlands Foundation annually organizes the Tour du ALS sporting event for fundraising because millions of euros are still needed for research into the disease.
The first ascent of Mont Ventoux was organized in 2012 by a group of friends in memory of a loved one who died of ALS. This initiative has grown into an annual event and an important source of revenue for research and for care and quality of life of current patients. The money released from the registration costs of participants and donations from companies, individuals, foundations and agencies enables the Tour du ALS.